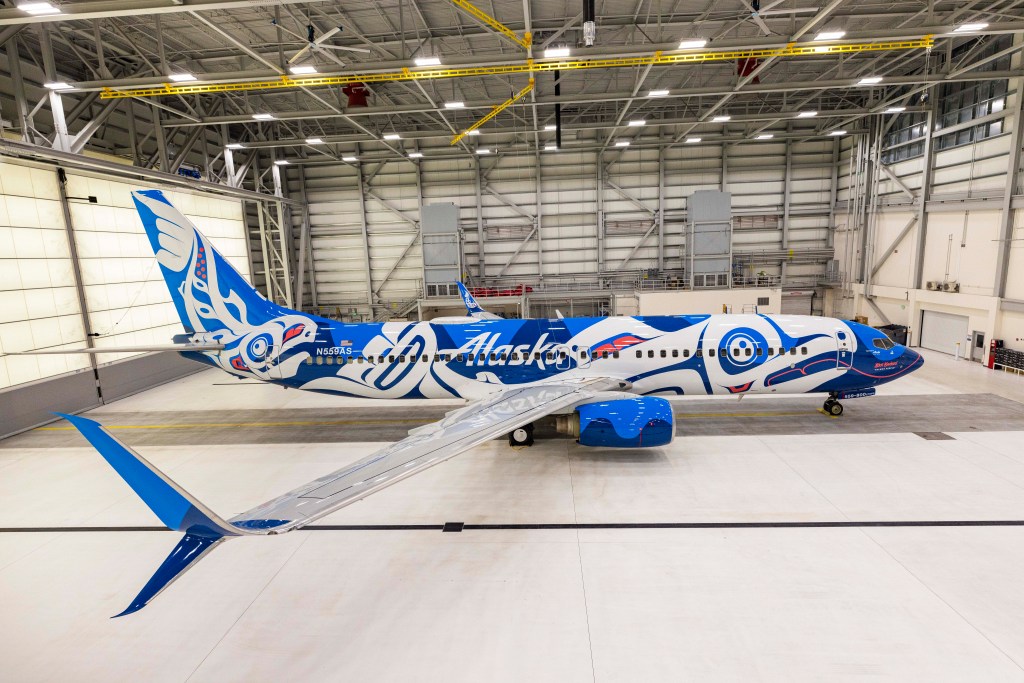 By Ali Garbino, Alaska Airlines
Growing up near the shores of Juneau, Crystal Kaakeeyáa Rose Demientieff Worl was used to seeing Alaska Airlines fly over the mountains into her hometown. She says she dreamed of having her artwork displayed on a plane for years — and today, that dream became a reality.
"Every time I looked at an Alaska plane, I couldn't help but visualize the salmon being in formline, or having some sort of design that represents identity. I can't help but look at things and see how to Indigenize them," says Crystal.
Today, we're honored to reveal Crystal's latest masterpiece: Xáat Kwáani (Salmon People). It's the first aircraft in the history of any domestic airline to be named in an Alaska Native language and to depict the ancestral importance through Northwest Coast formline art.
"My heart is so full and warm," says Crystal. "Every time I create something big or small, it's the same feeling of just fulfilling this need and wanting to create something and share my story, to stimulate something that's in me that feels connected. It feels good to say that I live in Juneau and fish and hunt here and eat off this land. My family's been here for a long time, and I can say my ancestors are from here, and I'm eating the same food in the same place that they once were, and that's really special to be able to share that and say that and feel that—and to create and retell their stories through my eyes. It's powerful."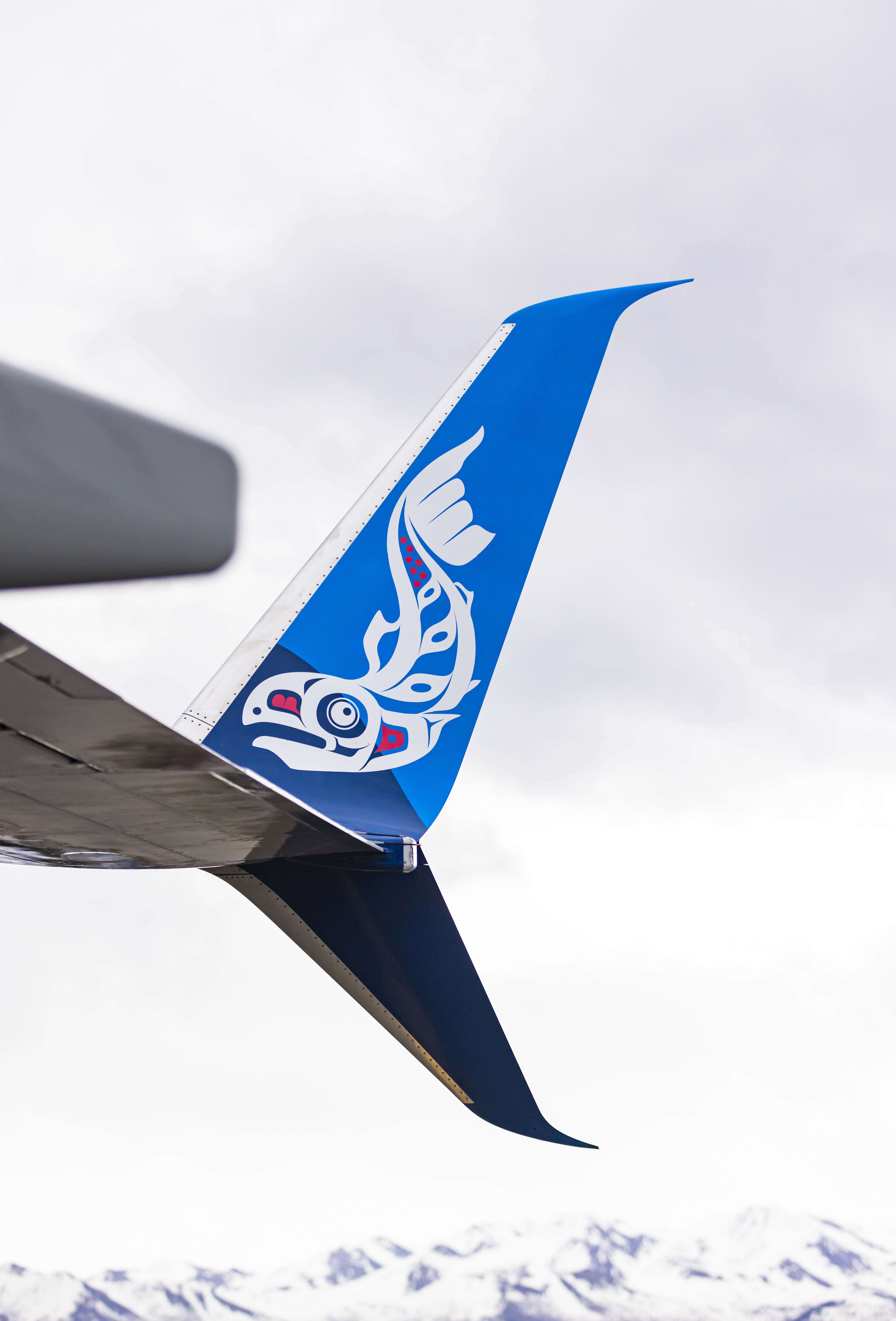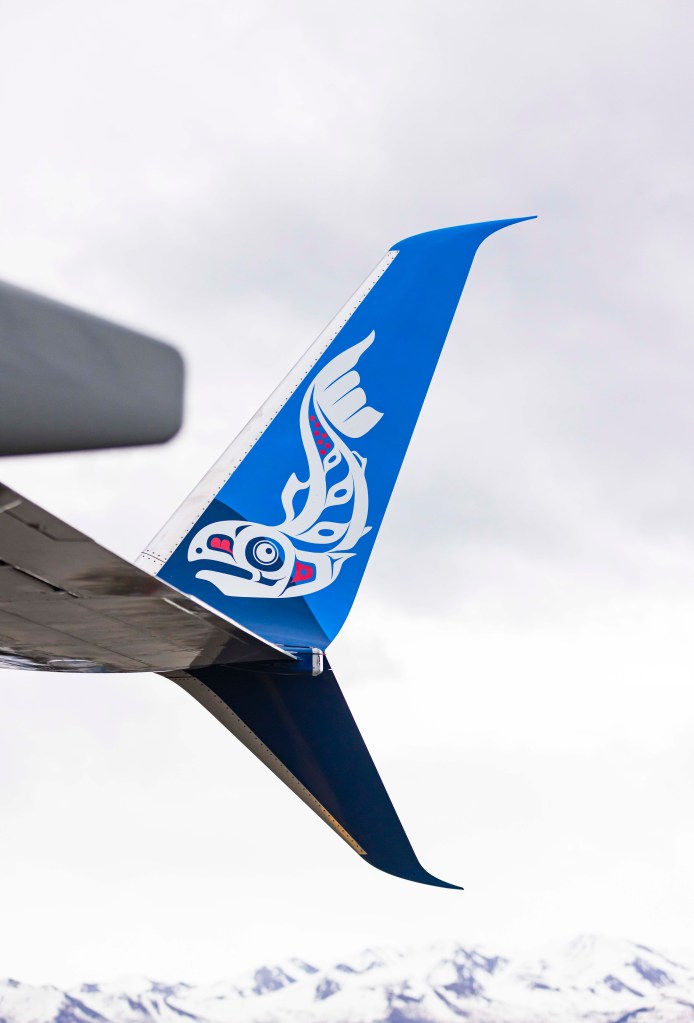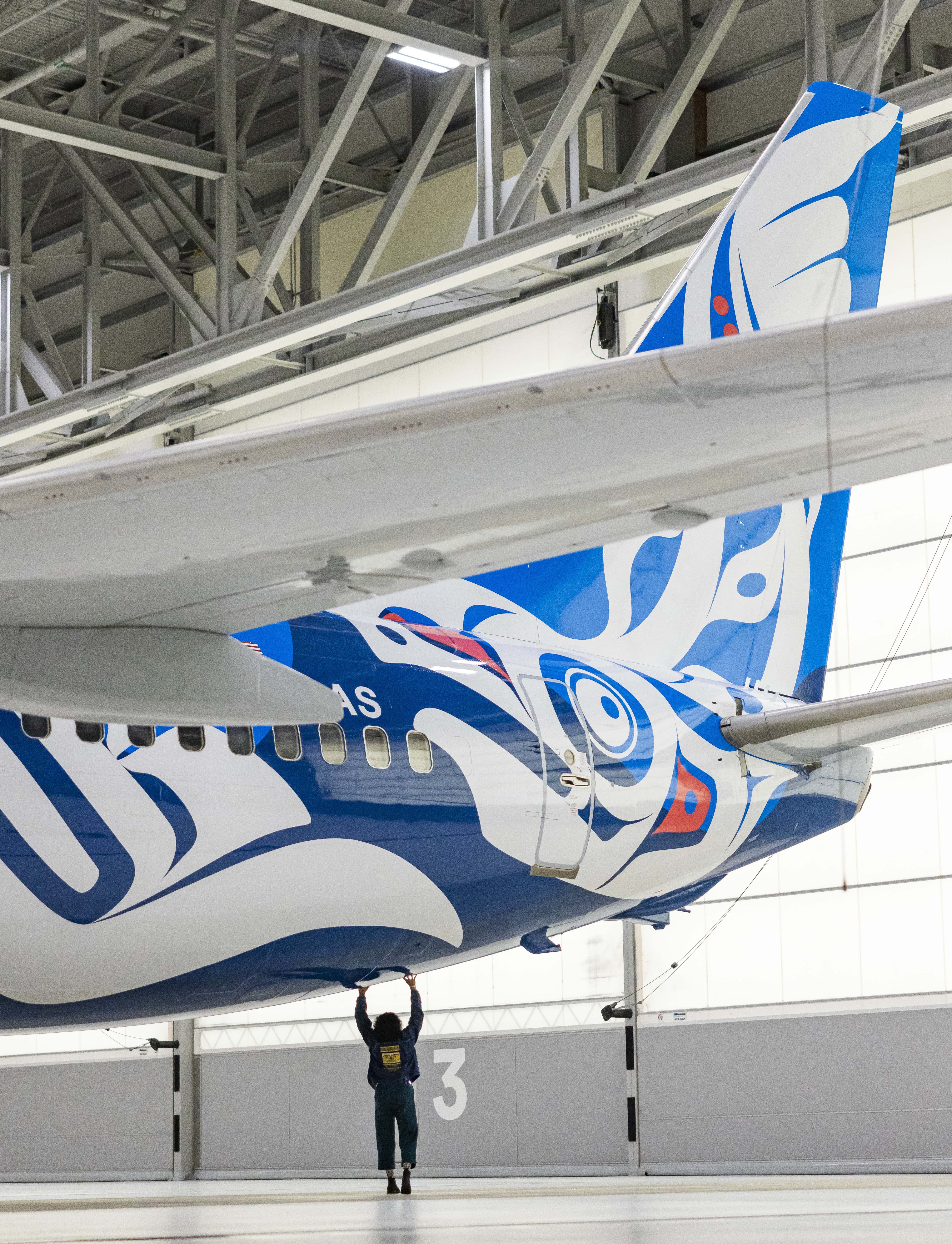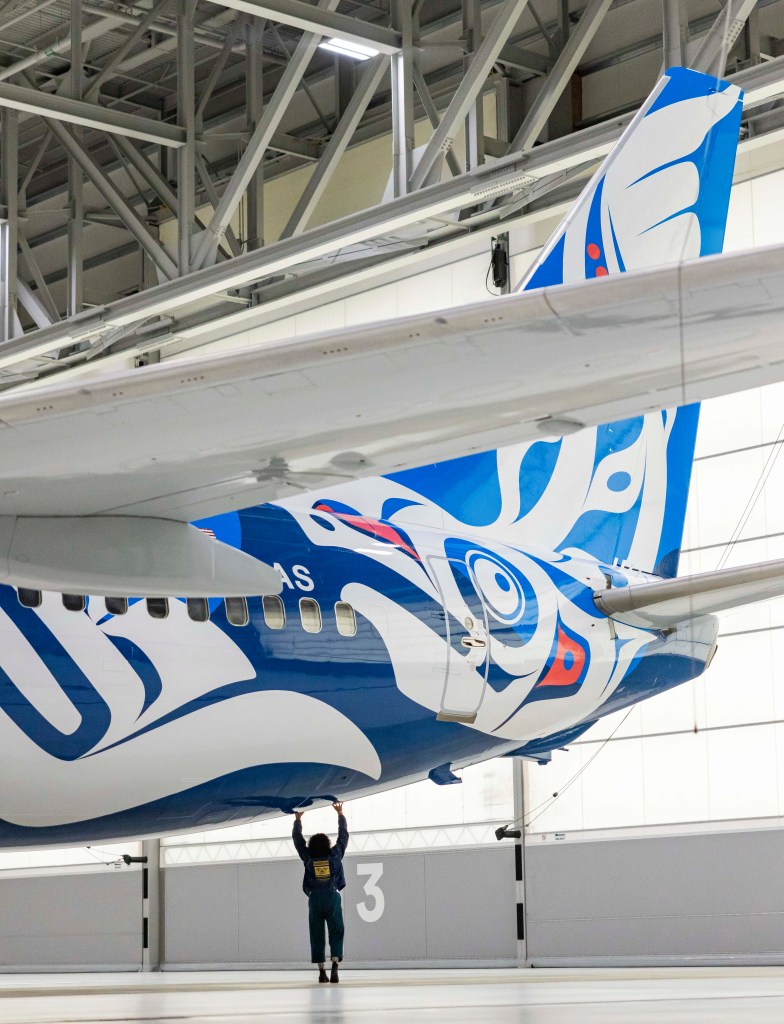 A fundamental belief of Native culture is that everything within the world and universe has a spirit. Xáat Kwáani means "Salmon People" in the Alaskan Tlingit language and refers to the spiritual link between the people who interact with the beloved salmon and all of us who benefit from their stewardship of the environment.
Crystal's expressive designs purposefully blend the old and new. Her work, whether it's printmaking, painting or public art, recreates and modernizes her ancestors' stories and explores the relationships and bonds that her people, the land and the animals share with Alaska so that generations learn its importance through traditional formline design, which dates back thousands of years. She says this aircraft will serve as a gateway to represent Alaska Natives, and she's incredibly proud.
Her grandmother, Rosita Worl, remembers how even as a young toddler, Crystal couldn't sit still, "The only thing that would slow her down were bright, bold, contrasting colors or patterns. I knew then she was going to be an artist," she said.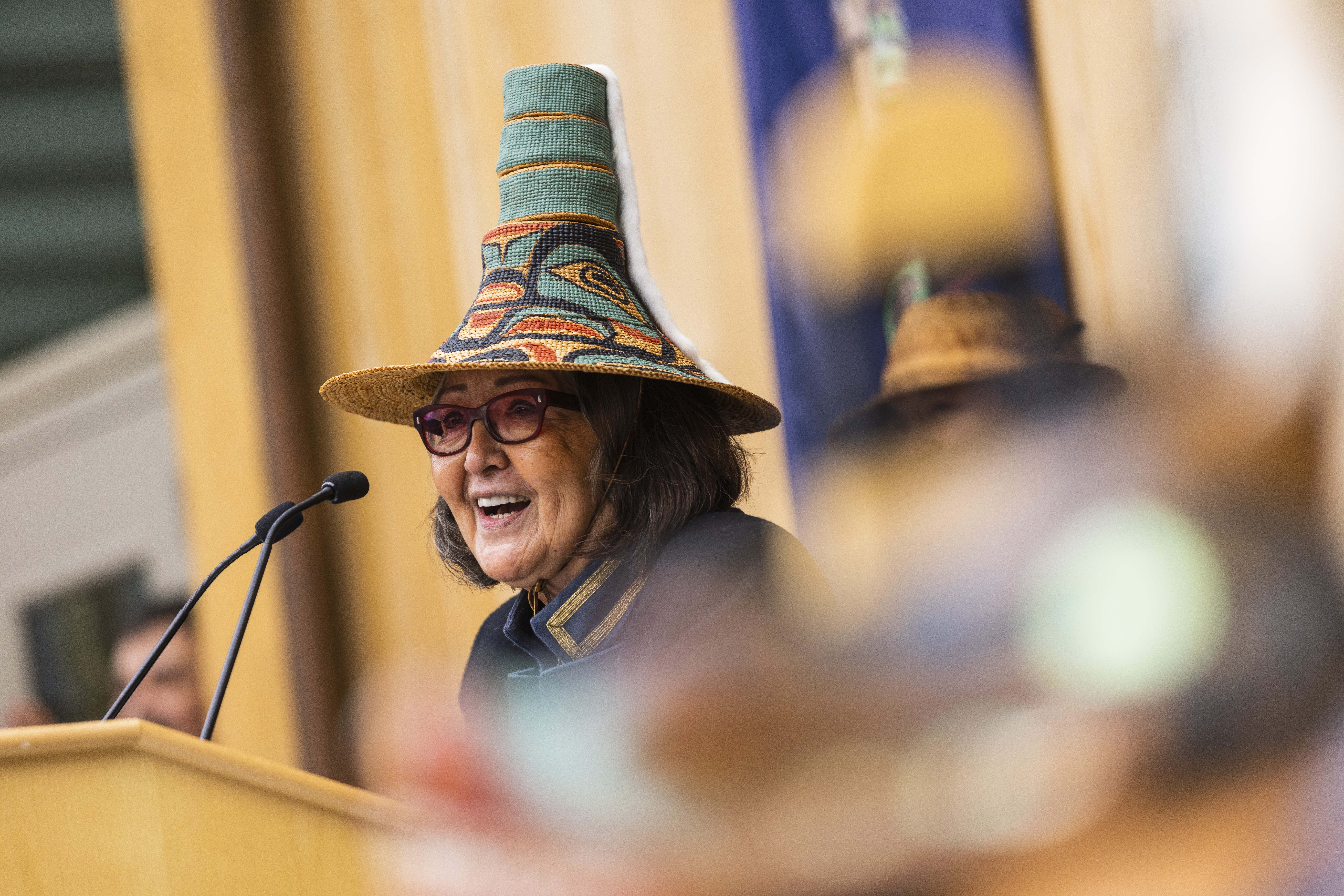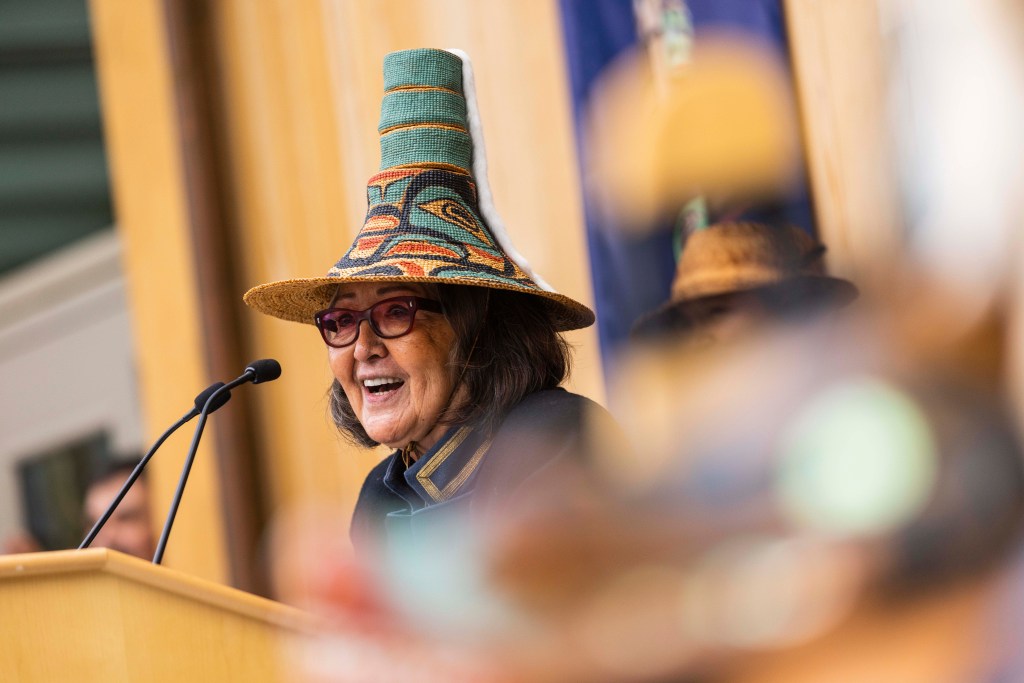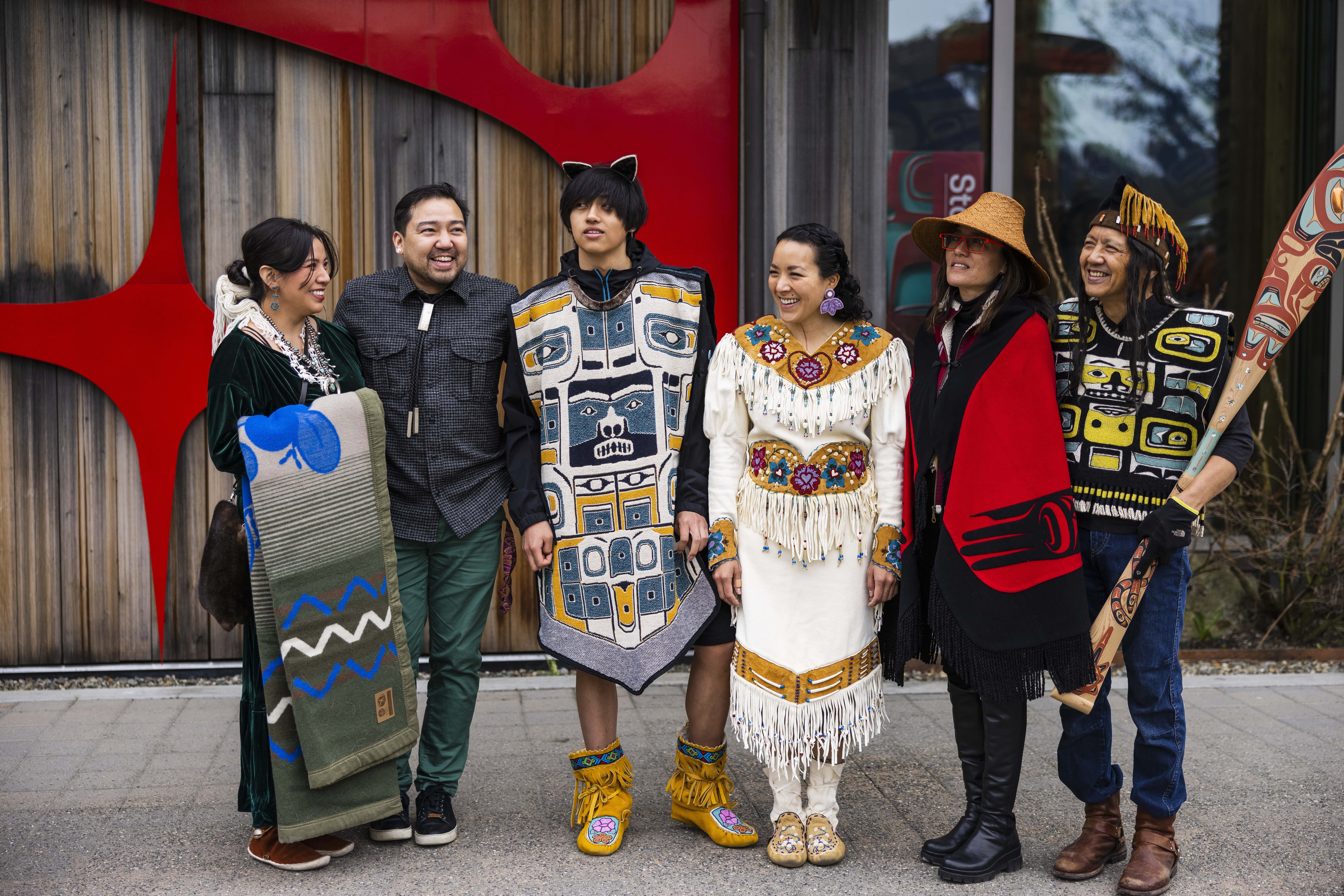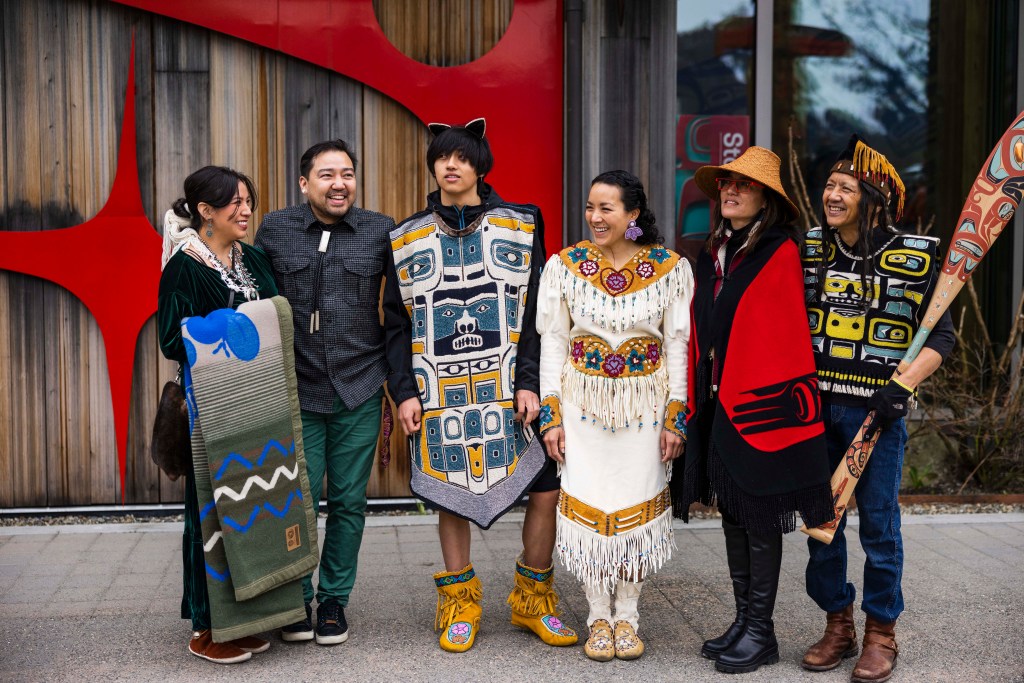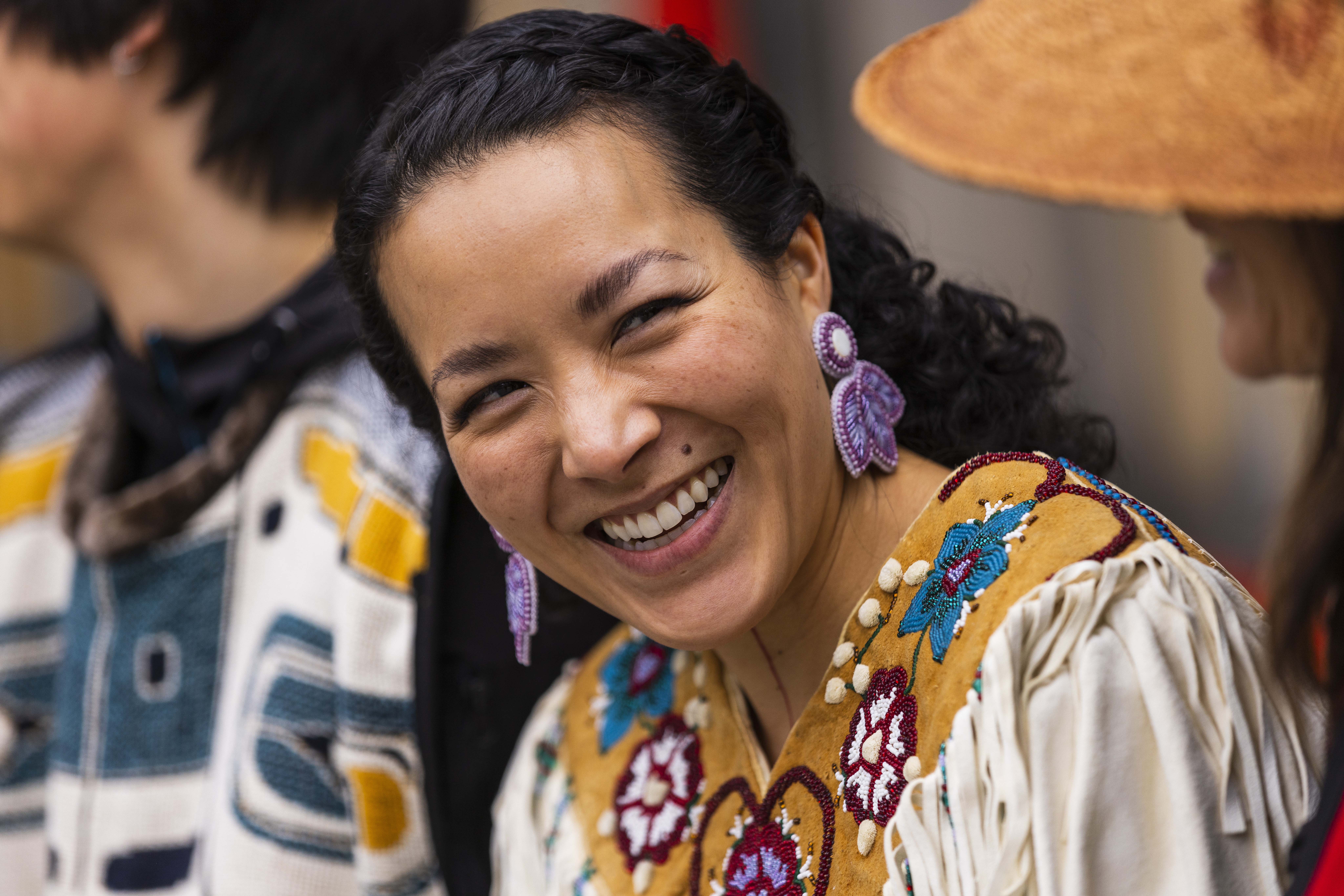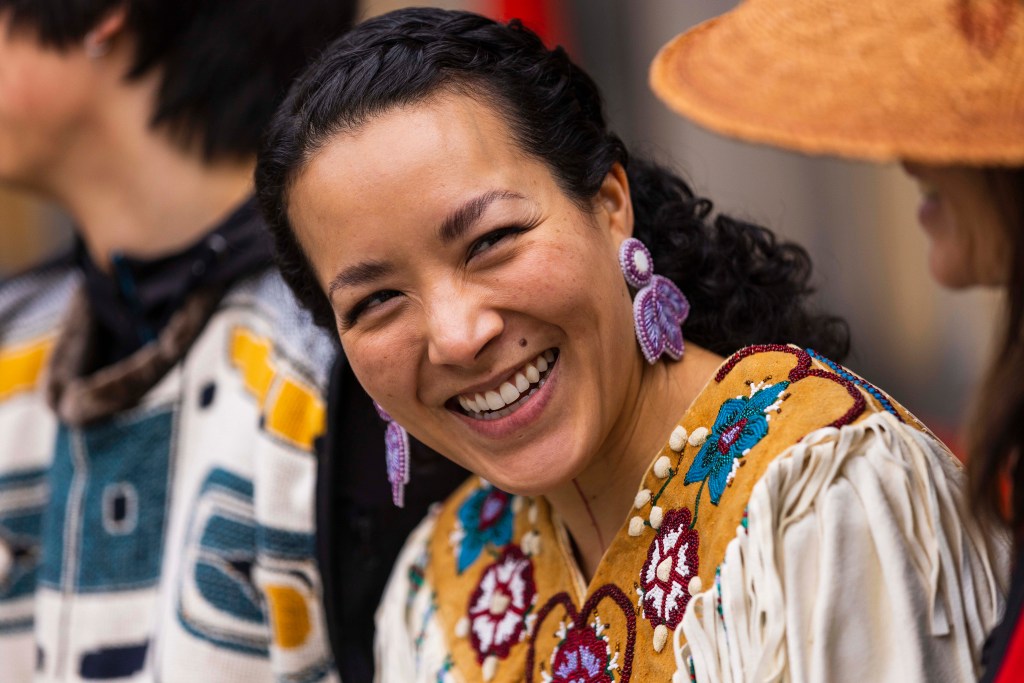 "When people look at my art, I hope they feel inspired, they feel motivated, but I also want them to know, it's not easy, it's challenging," says Crystal. "There's a lot of things people don't see … they see the end piece, which is the outcome of a lot of hard work … a lot of sweat, blood. Every piece I've done, that gets bigger and bigger, my life has been building up to it. And I've been working really hard to get there."
A tribute to strength and resilience
As a tribute to salmon and its ancestral importance, this aircraft is the first in the country to be named in an Alaska Native language and the first time Alaska Airlines has featured a language besides English on the main door of an aircraft.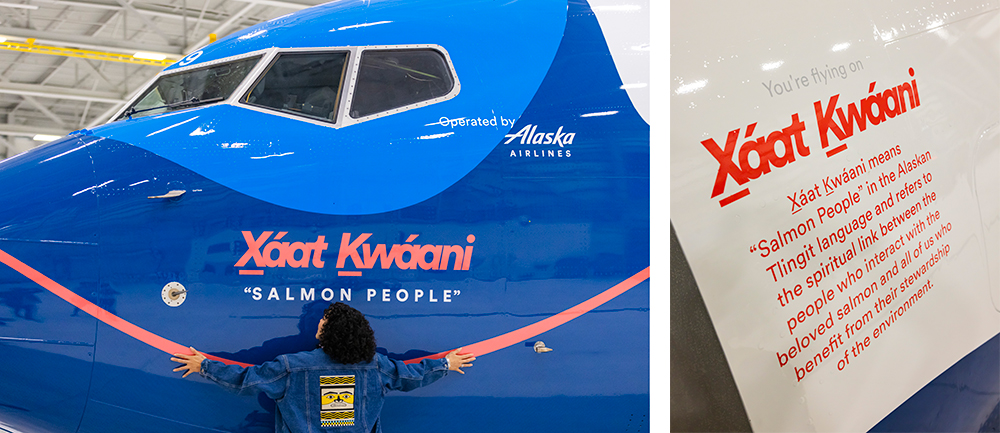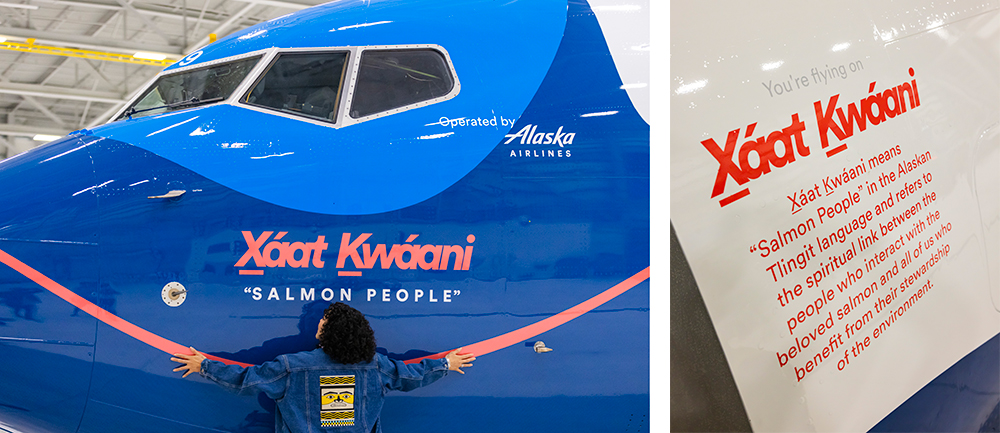 "This will be significant to have Indigenous language on an airplane," says Crystal. "People will see it, they'll read it, they'll try to say 'Xáat Kwáani' (Salmon People), and they'll want to know more and be curious to learn about it and want to feel connected to it. I think that's significant in terms of the relationship we need to make between our languages that need speakers. So, I'm excited to be part of this."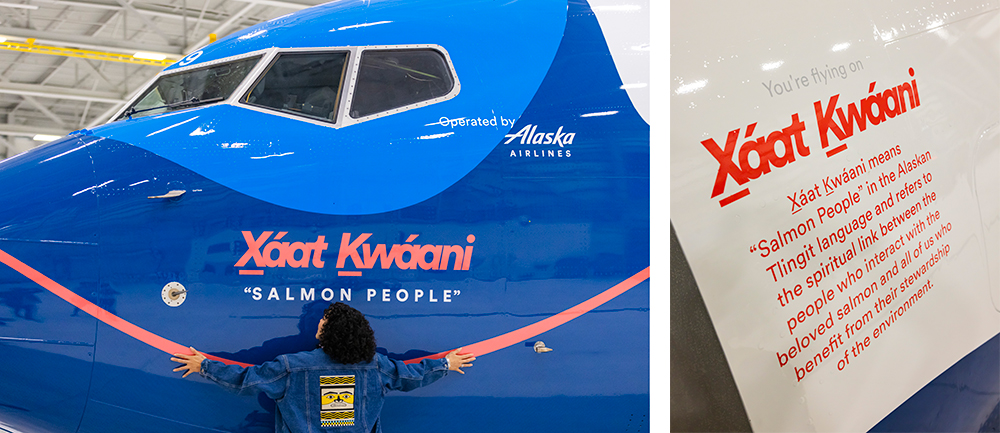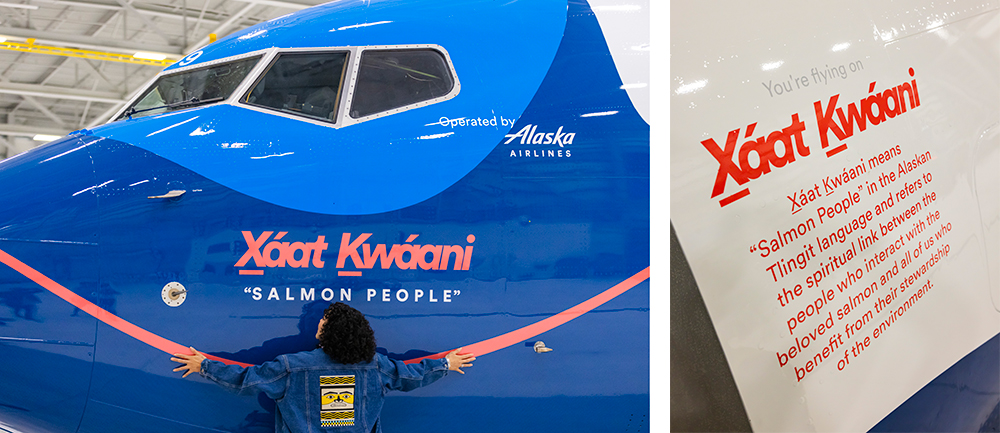 "This will be significant to have Indigenous language on an airplane," says Crystal. "People will see it, they'll read it, they'll try to say 'Xáat Kwáani' (Salmon People), and they'll want to know more and be curious to learn about it and want to feel connected to it. I think that's significant in terms of the relationship we need to make between our languages that need speakers. So, I'm excited to be part of this."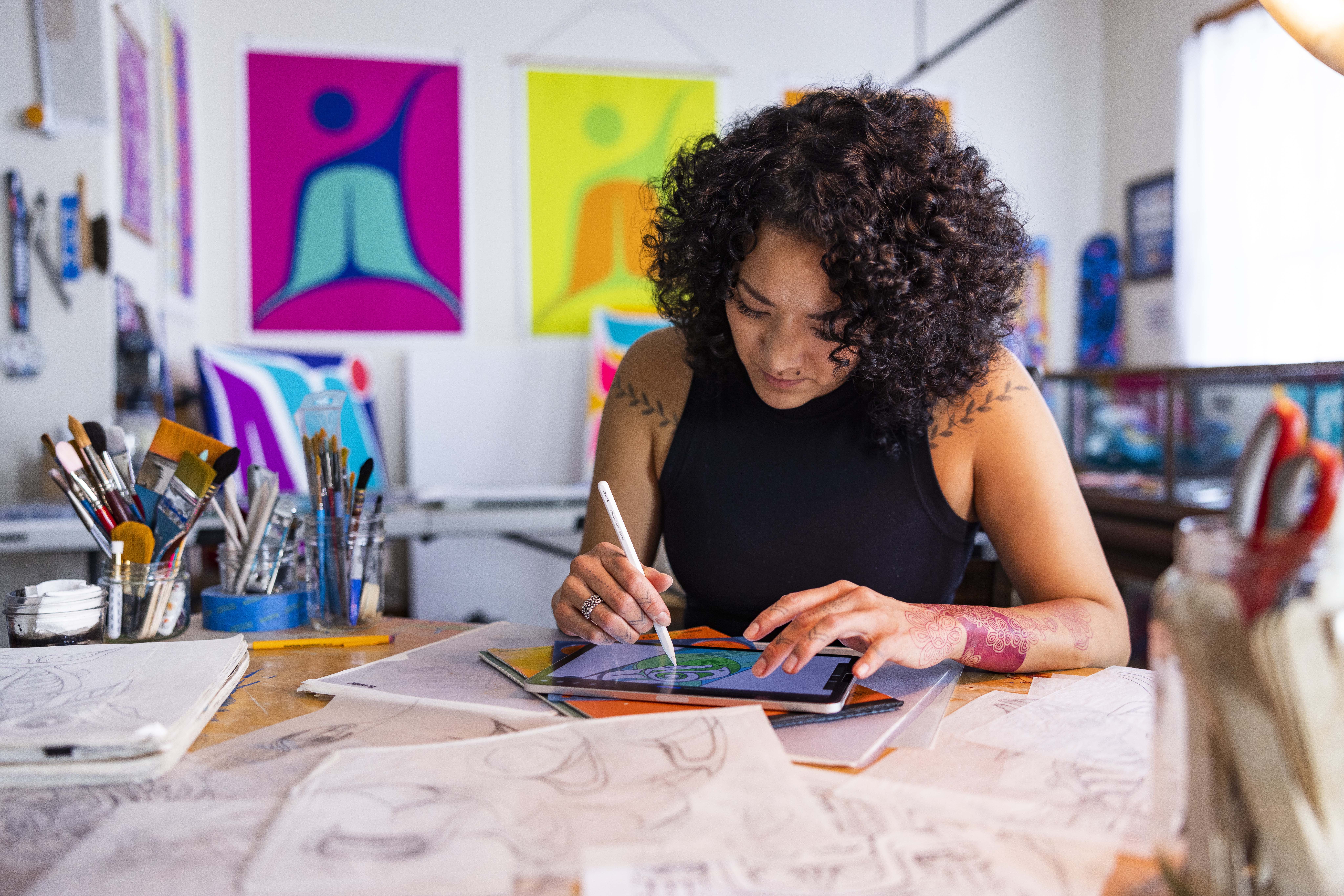 During the design process, Crystal worked with people close to her and we shared the design with employees from our Native Employee Network (NEN) business resource group, and multiple community leaders in Alaska, the Pacific Northwest and the West Coast.
Crystal even redesigned the NEN logo with a fresh take on formline art, featuring the beloved salmon. Her mother, Beverly Demientieff, who is Deg Hit'an Athabascan from Holy Cross, Alaska, was actually one of the founding members of Alaska's NEN group when she was a customer service agent in Fairbanks, Alaska. "Everything about this project has come together in a really beautiful, connected way," she said.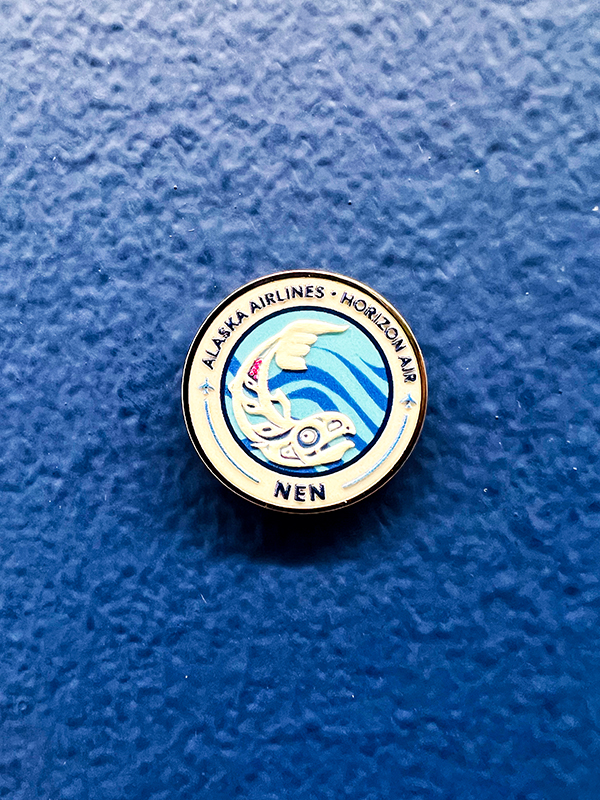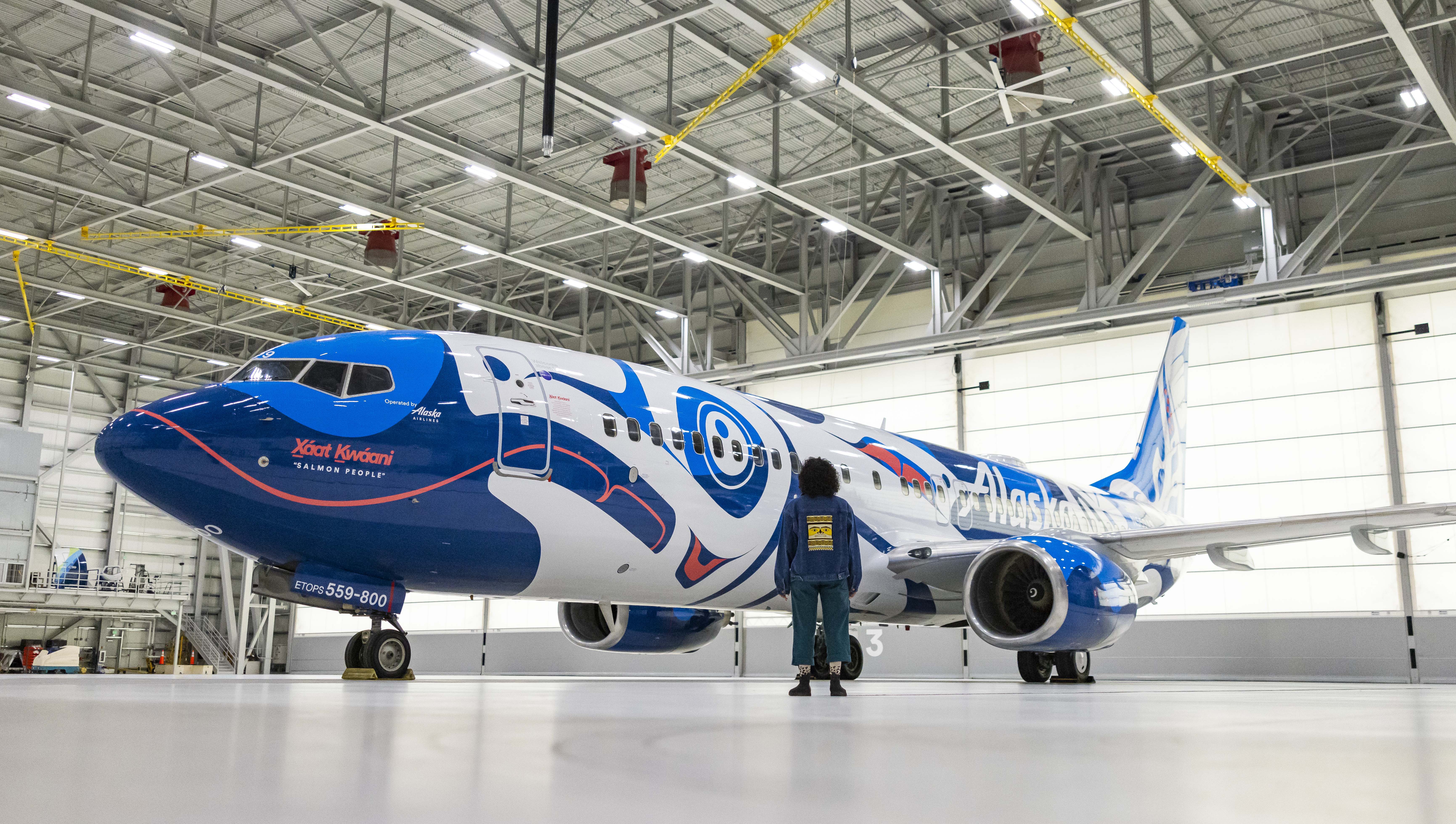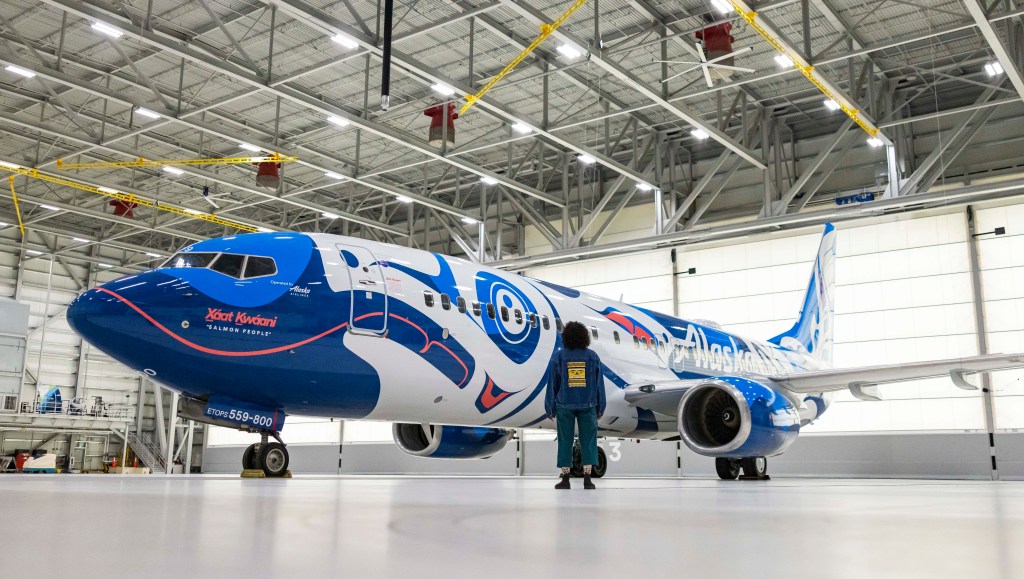 Talk about kismet: In 2020, Crystal and her friends tagged @alaskaair on Instagram with the caption: "Are you ready for me @alaskaair??  I'm ready for you." She says she's been manifesting the idea to create a plane for Alaska … and three years later, here it is.
"Having read about Crystal, seen her murals in Juneau and Anchorage and knowing her love of monumental art, she came to mind when we had the opportunity to paint a very large canvas— a 737-800," said Marilyn Romano, regional vice president in Alaska. "Only this time, instead of remaining stationary and having viewers come to the art, we will take the art everywhere this plane flies, inviting guests to learn more about Alaska Native and Native American history, art, culture and language."
At a family gathering recently, her uncle, Marcelo Quinto, shared the significance of Crystal's latest work, "She is part of us, she is part of the state of Alaska — her art is something that belongs to all of us here in Alaska, and it's just fitting that it's going on Alaska Airlines so that it gets to go through the whole state of Alaska. So, I hope everybody congratulates her and will enjoy knowing this is all a part of us."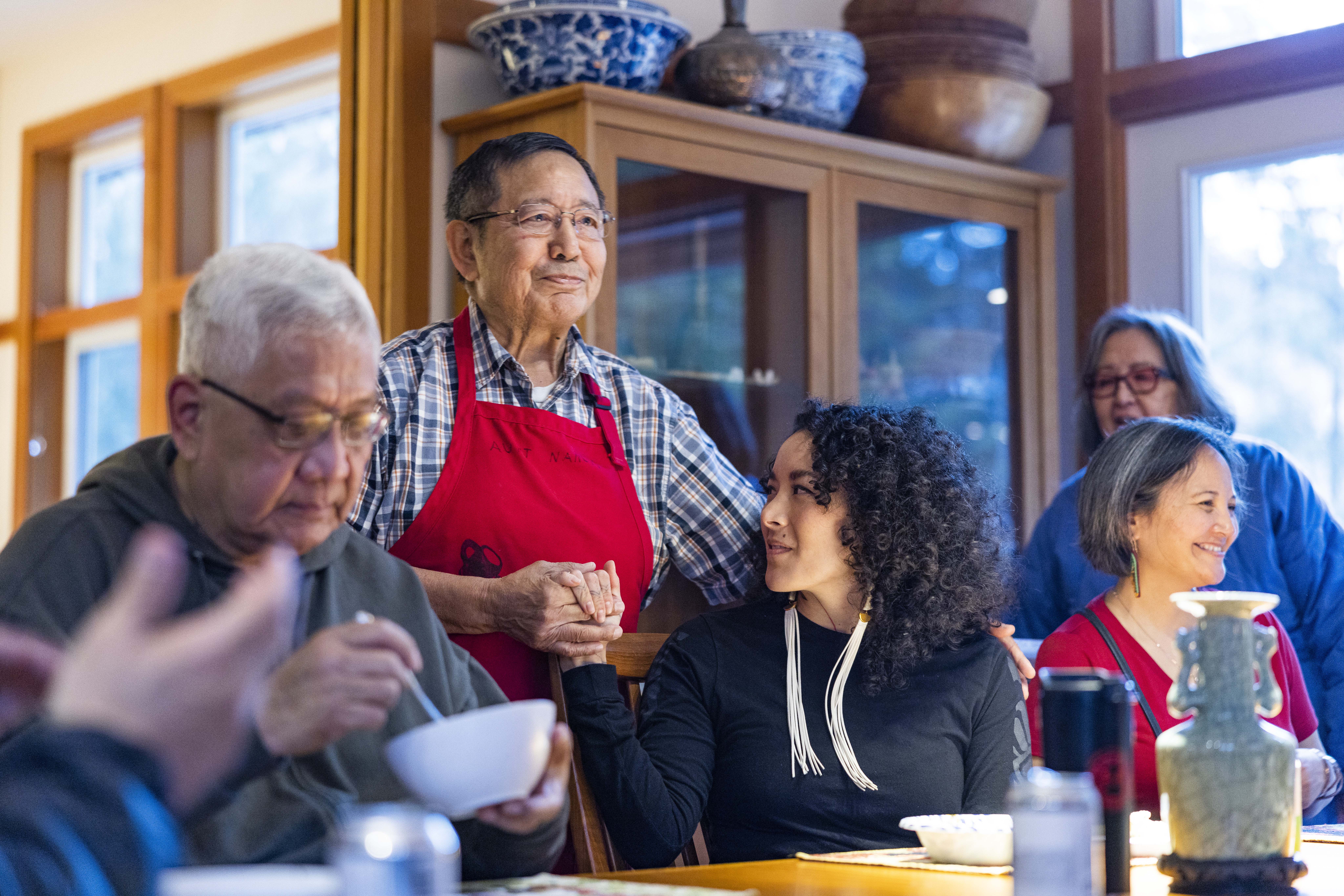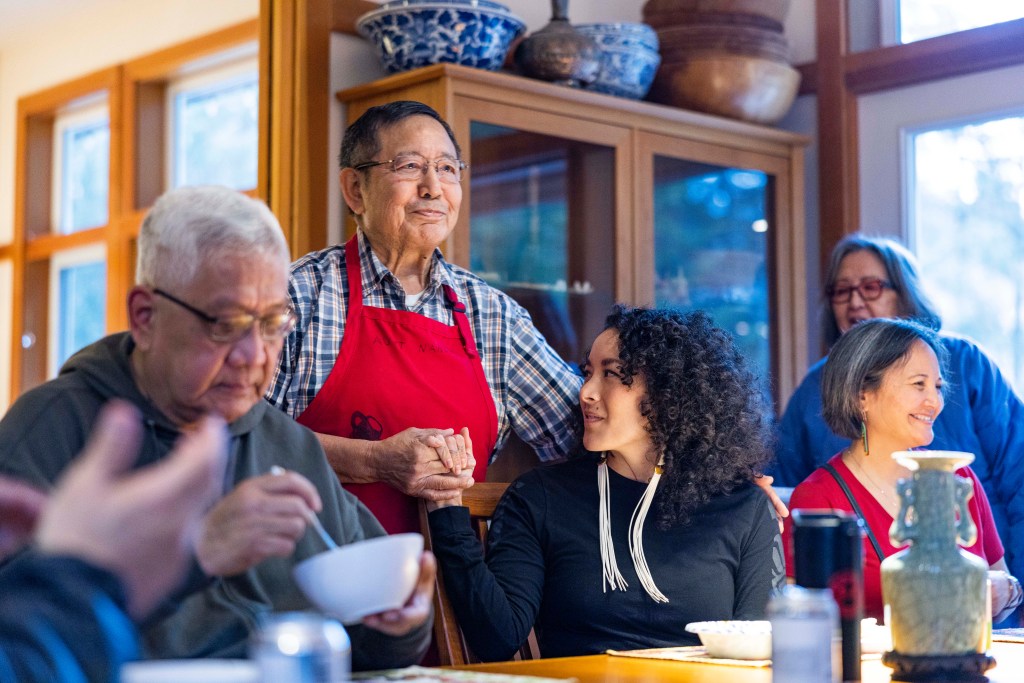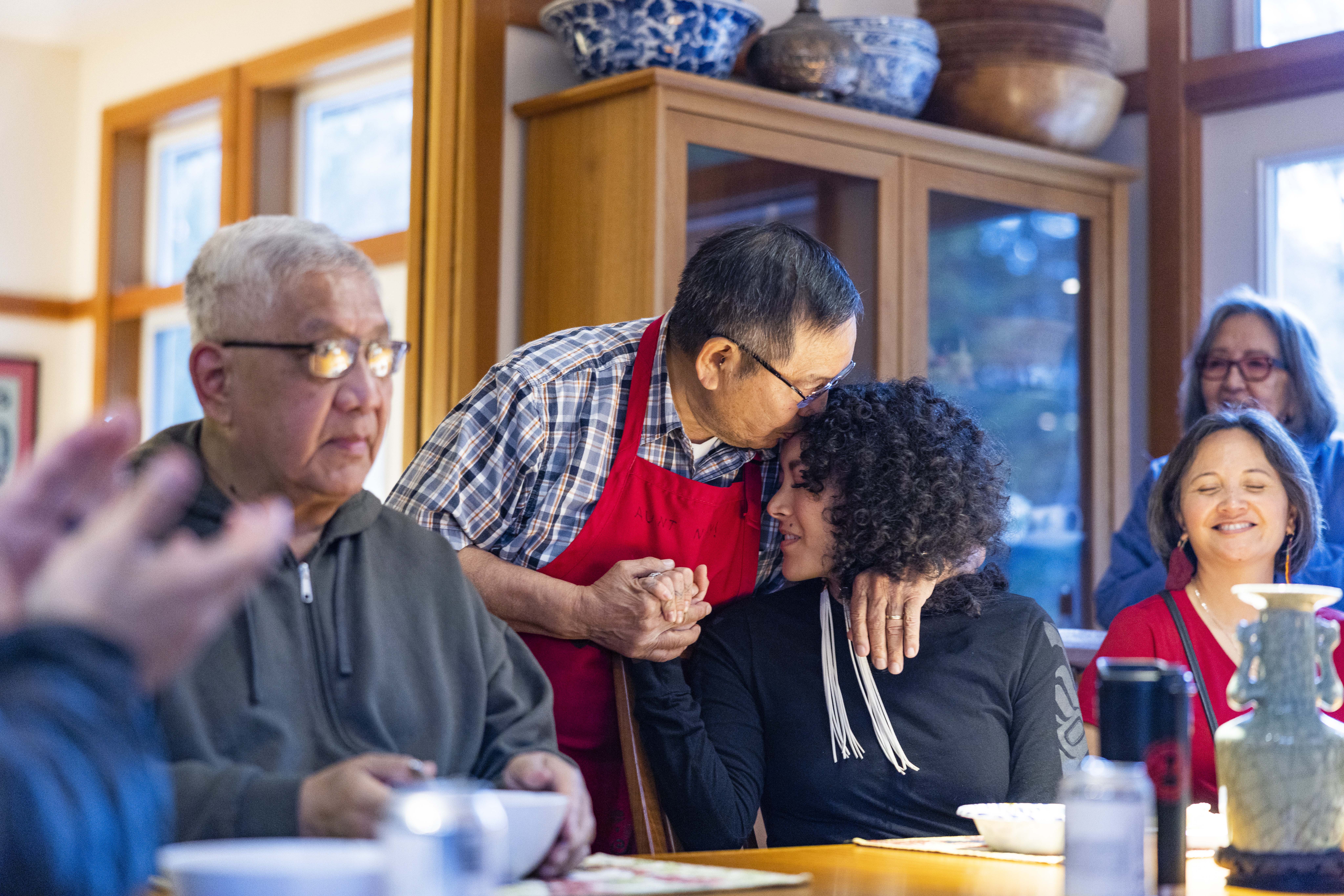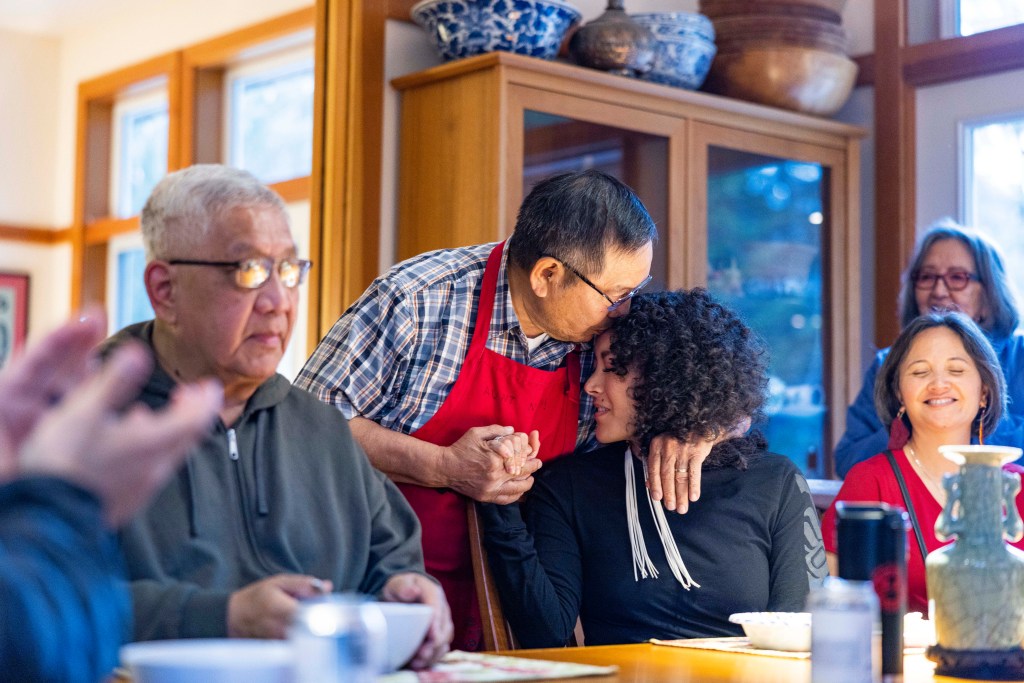 Crystal has high hopes that this aircraft will encourage people to learn and embrace Indigenous culture, values — and to do our part to make the world a better place for the salmon.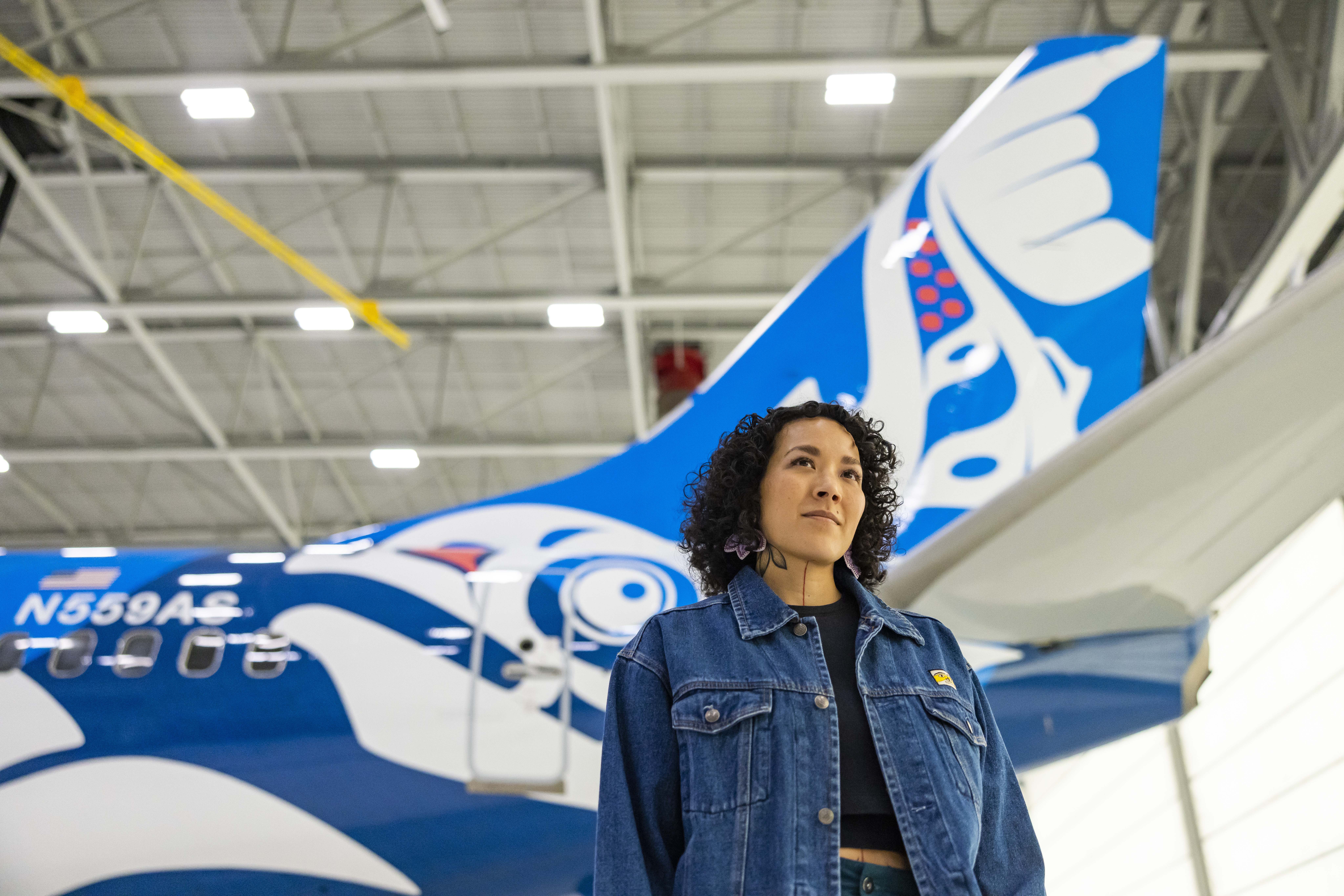 "Salmon are perhaps probably the strongest beings on earth," she said. "We have a great amount of respect for salmon because they're feeding my family, clan members, community members, and Alaskans. The nutrients in their bodies feed our people, this community. It's how our Tongass rainforest is so lush and how our animals are so big and strong. Their muscles feed our muscles and stimulate so many facets of our existence and have for thousands of years — I just hope that will remain for the next generations."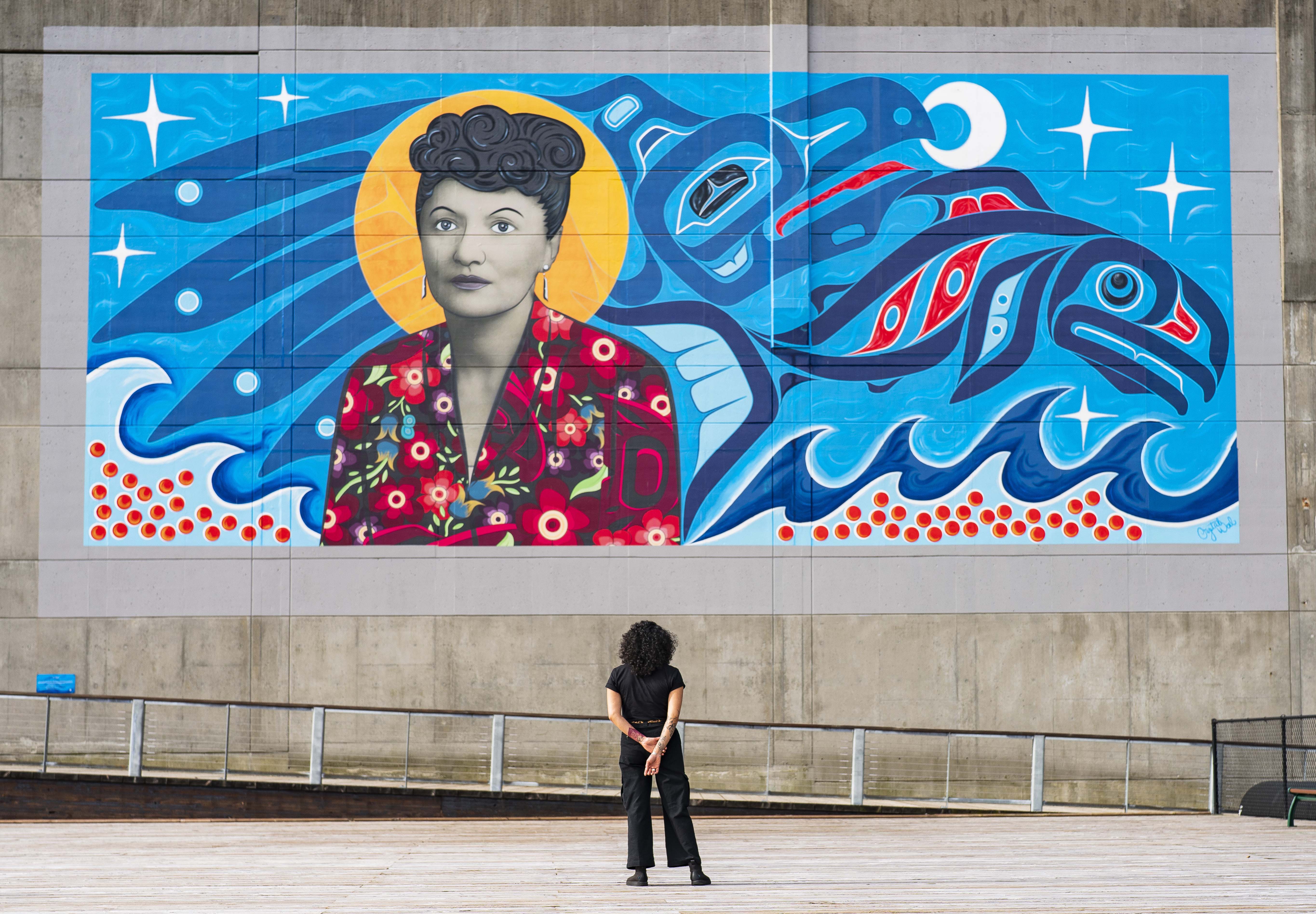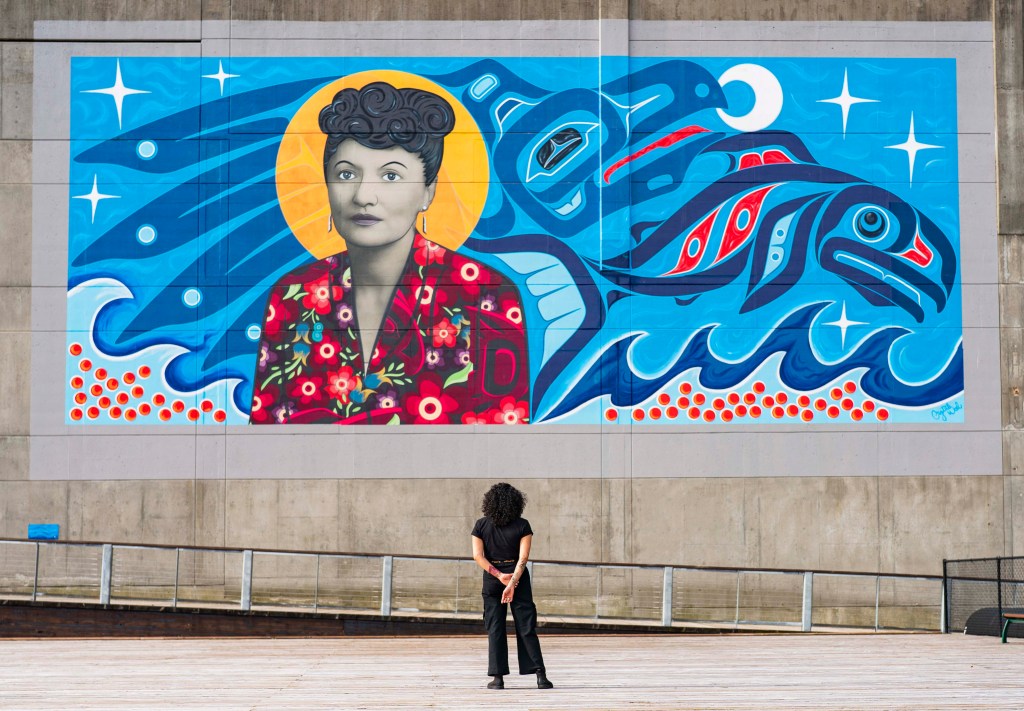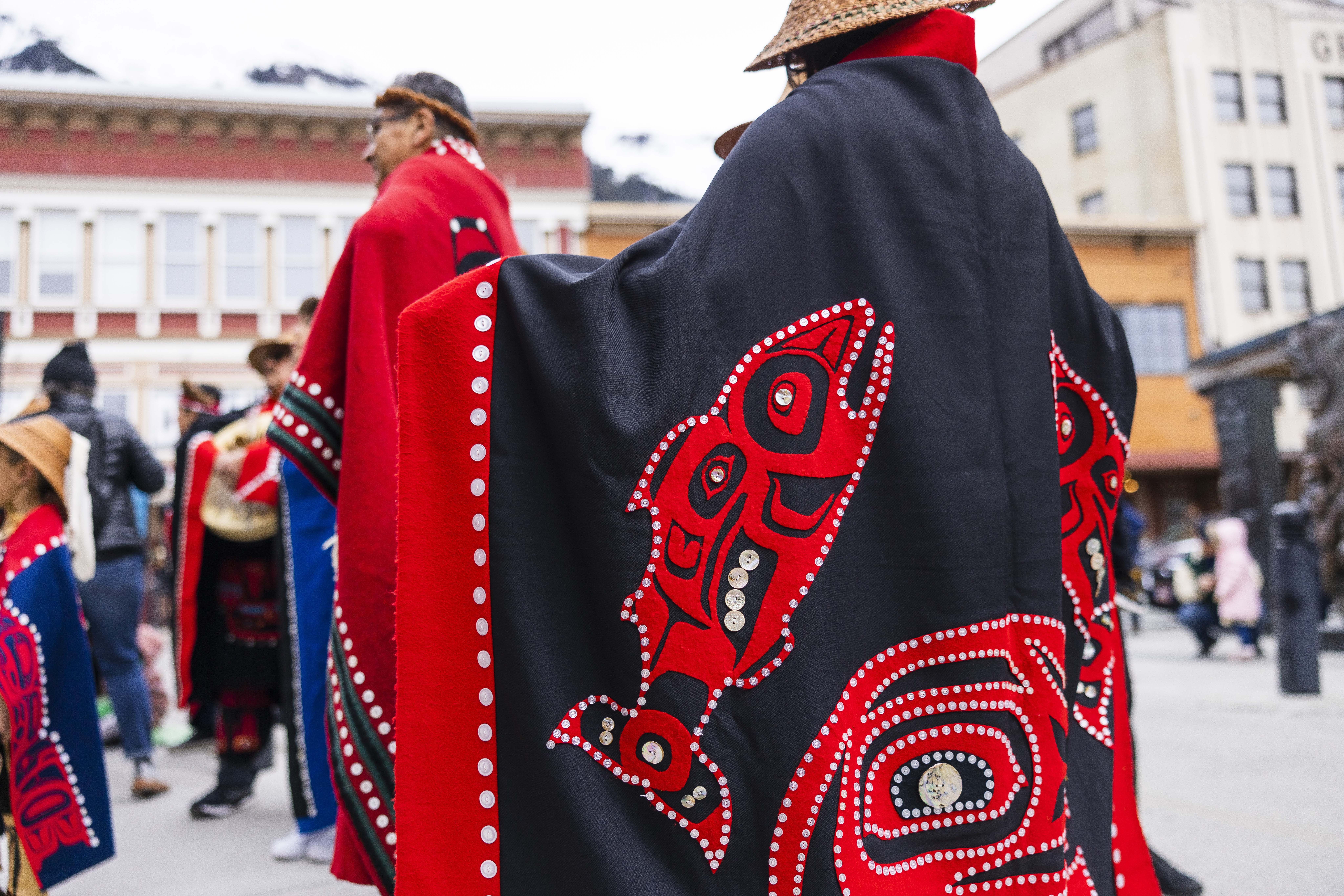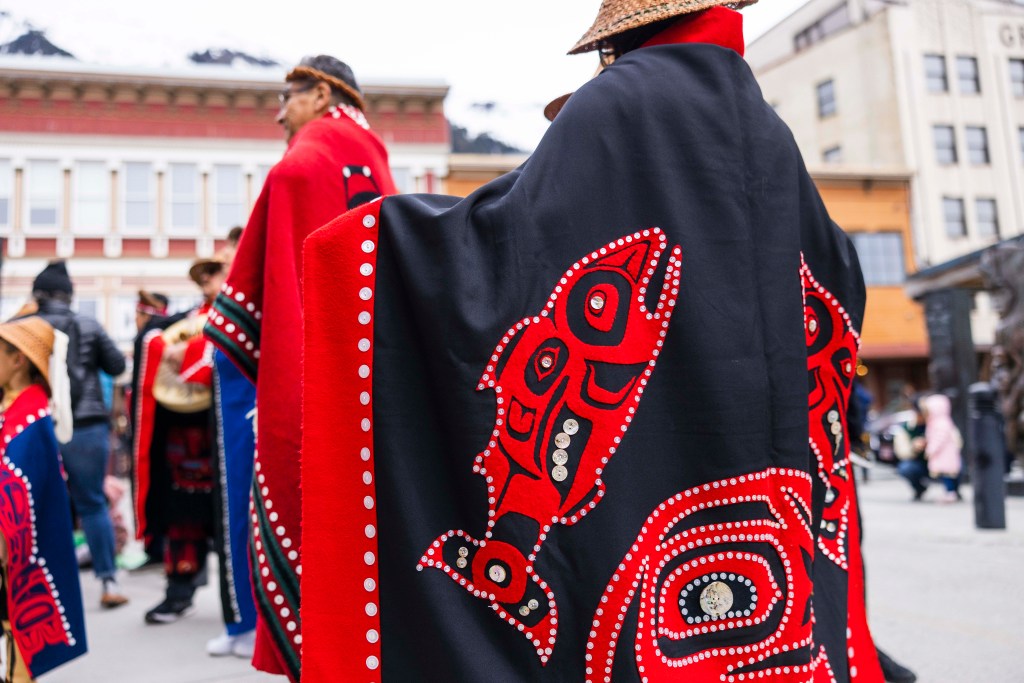 Watch timelapse video of the aircraft being painted:
"We are honored to share the vibrant art of Northwest Coast formline with Alaska Airlines and the world. We see the 'Salmon People' design symbolizing the Tlingit, Haida and Tsimshian cultural value of Wooch. Yax, Gu dlúu, Ama Mackshm: social and spiritual balance. Our Indigenous artists continue to utilize and evolve formline art, honoring our ancestors and inspiring future generations."

– Sealaska and Sealaska Heritage Institute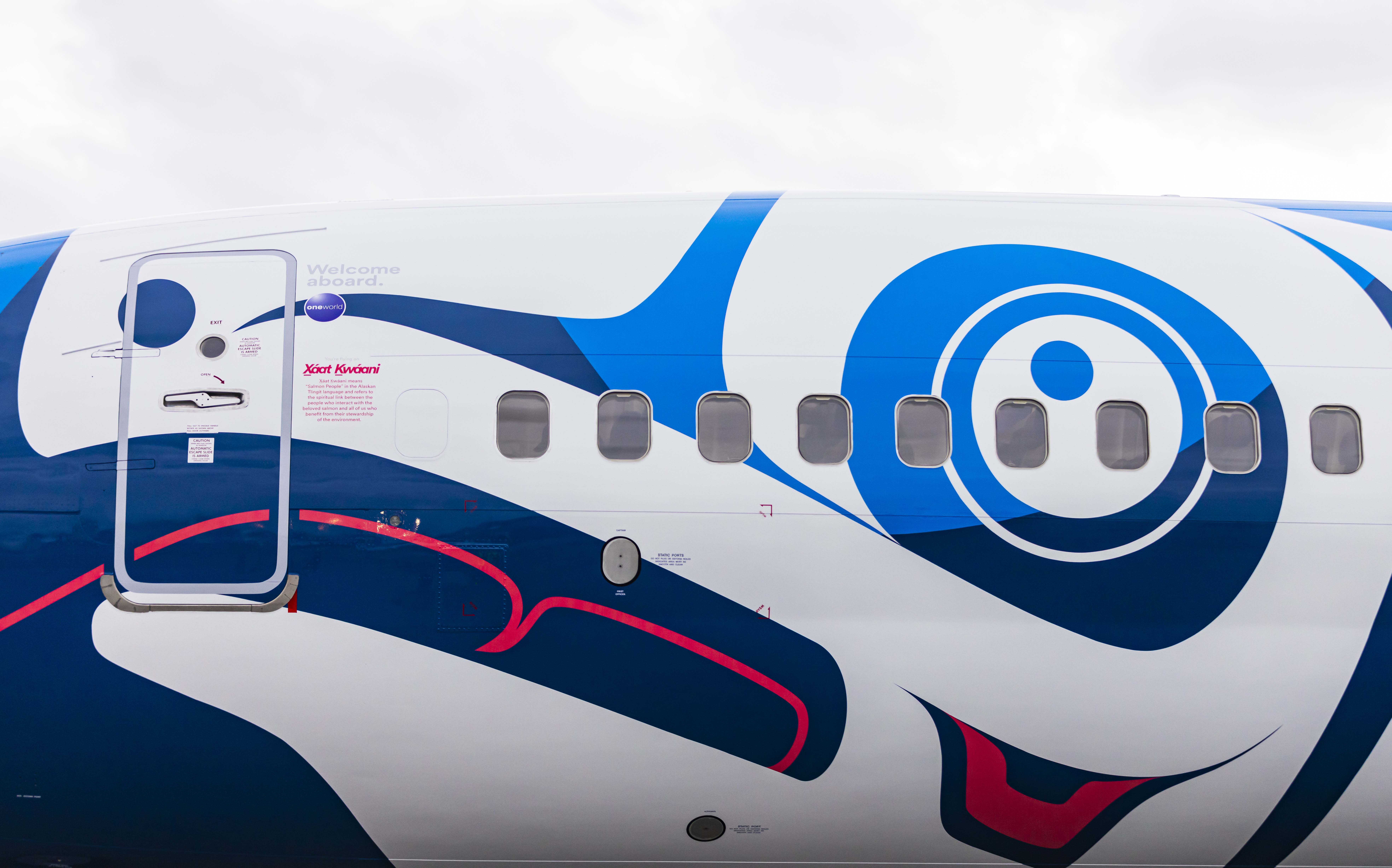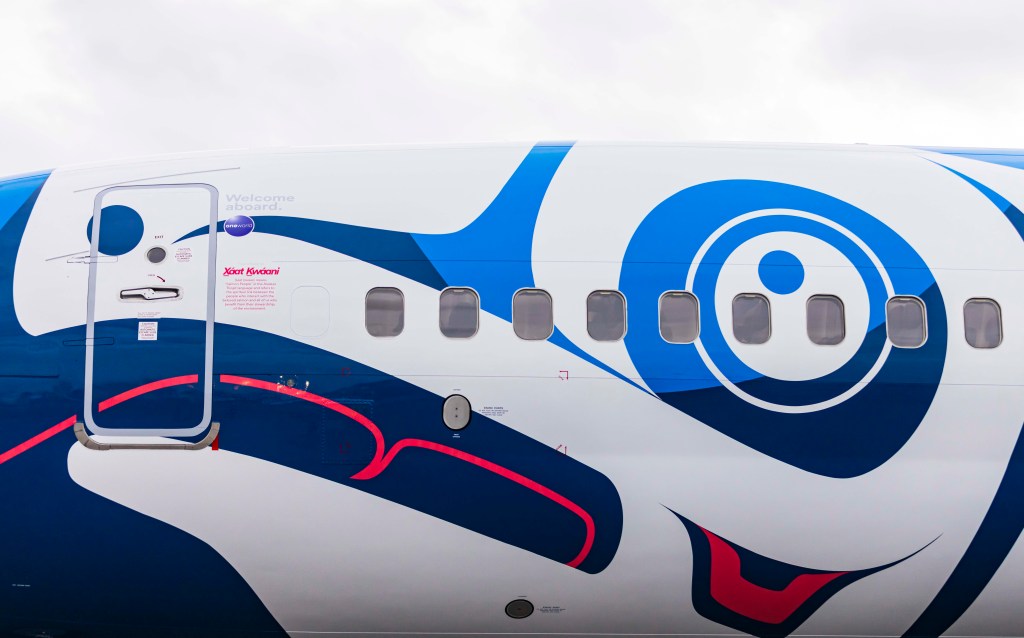 "For me, this plane is confirmation that the art, language and culture that our Ancestors practiced and hoped to pass on to future generations is not only alive and well but is thriving. It is a statement for all Indigenous people that we are still here."

– Dawn Smith, Tsimshian, clan is wolf. Co-Chair, Native Employee Network Alaska Airlines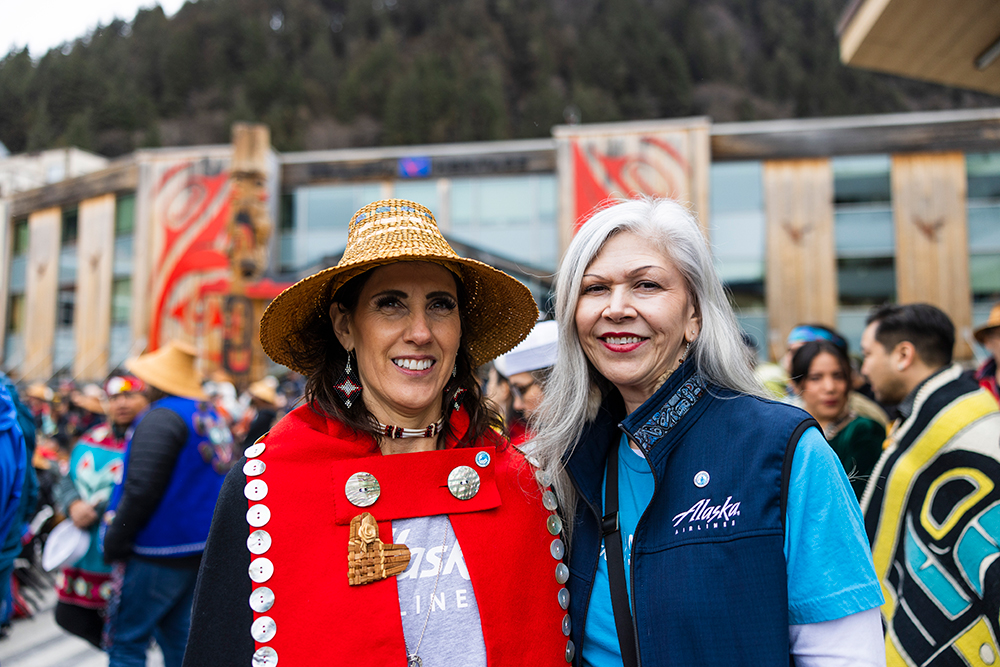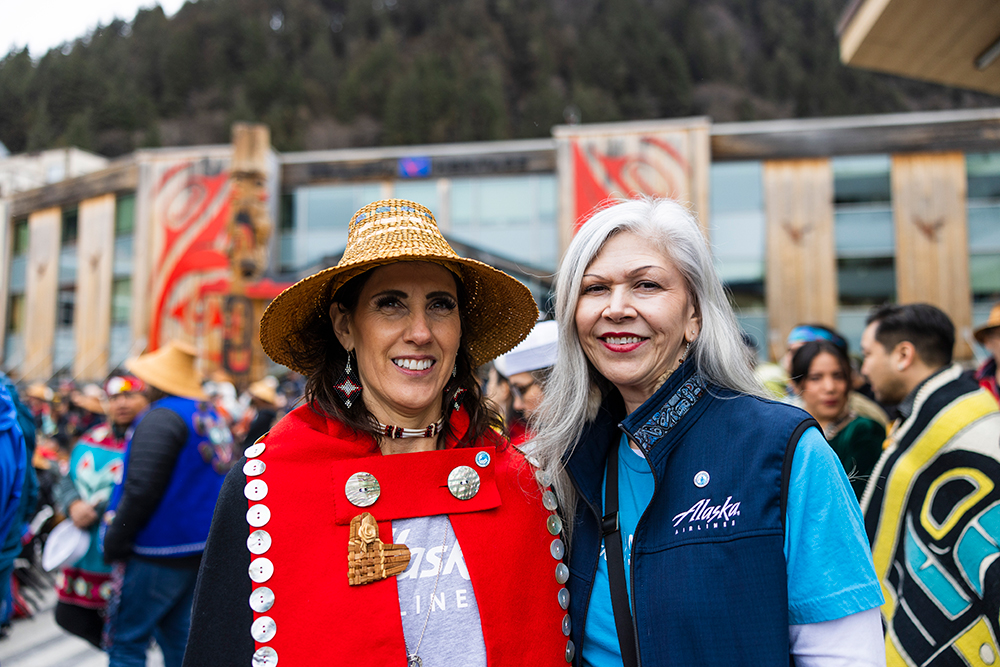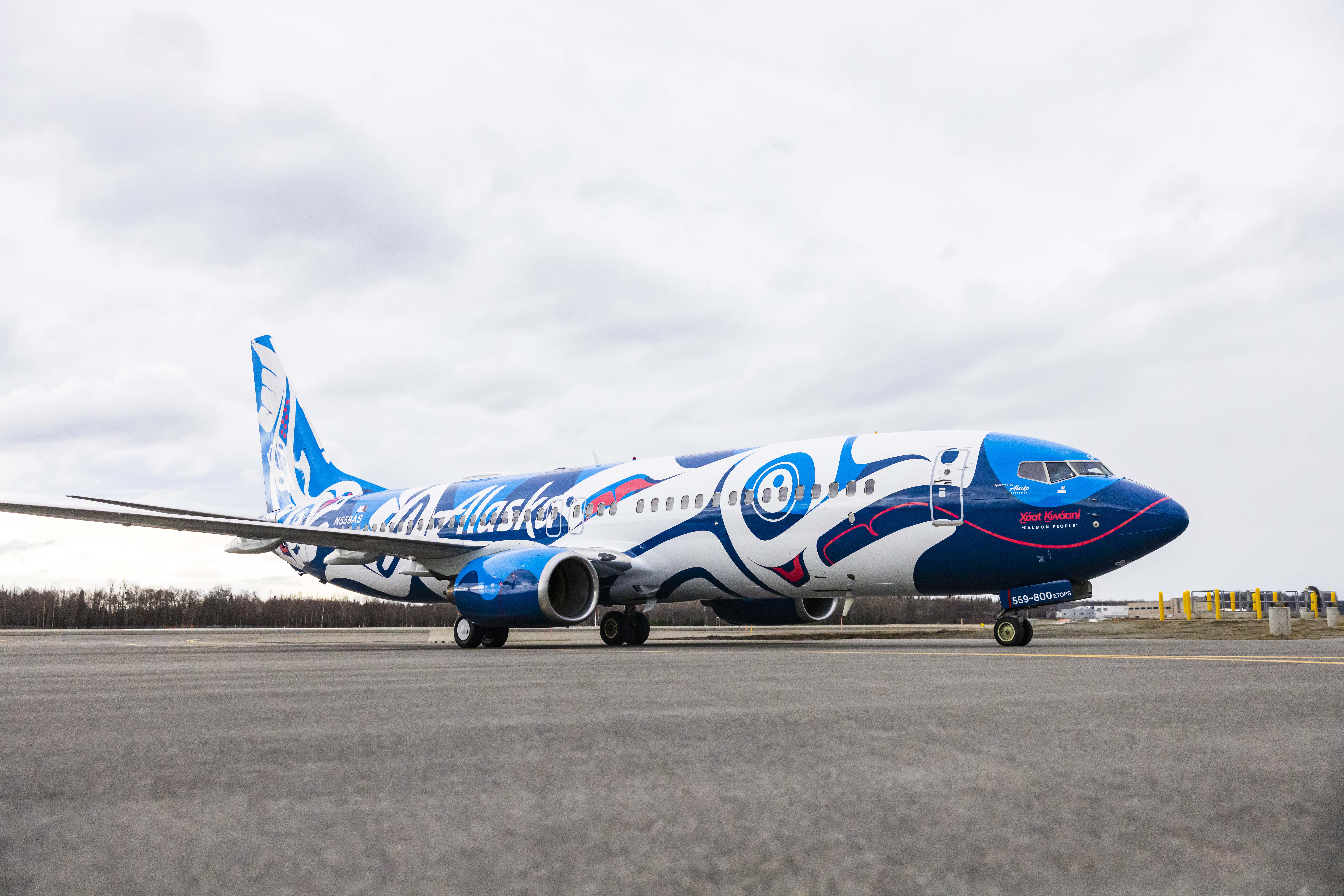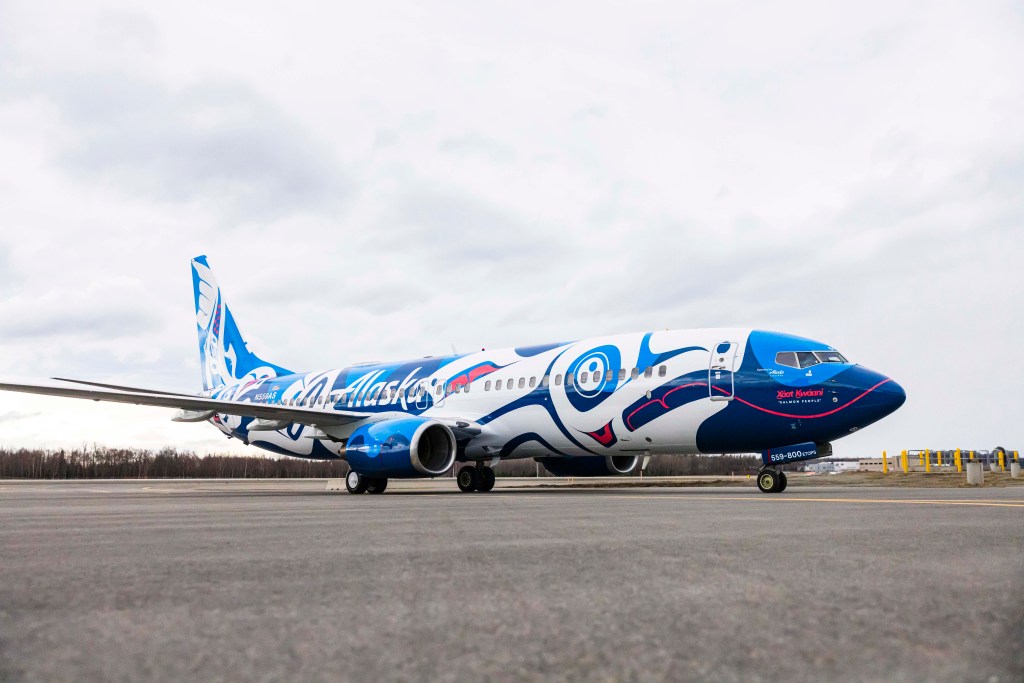 "Alaska has always been, and will always be, a Native place with deep, rich cultural heritages. For too long, Alaska has been viewed primarily through a geographical lens, when it is the many Indigenous cultures and peoples that truly make our state unique. We honor and appreciate Alaska Airlines' commitment to ensuring that from the moment someone sets foot on this airplane, they will have an opportunity to learn about Alaska's First Peoples, who have inhabited Alaska since time immemorial."

– Emily Edenshaw President and CEO, Alaska Native Heritage Center
About the Artist | Crystal Worl
Crystal Kaakeeyáa Rose Demientieff Worl is Tlingit Athabascan from Raven moiety, Lukaax.̱ádi Sockeye Clan, from the Raven House and is Deg Hit'an Athabascan from Fairbanks, Alaska, and Filipino.
Crystal has created several public art installations in Alaska including a design on the side of a Juneau's Capitol City Fire Rescue ambulance, a steel cut medallion installed in downtown Juneau, and last year, painted a mural 125- foot by 48-foot in Anchorage.
In March, Crystal designed "The Art of Skateboarding" stamps for the U.S. Postal Service that laud the sport of skateboarding — and what Indigenous groups have brought to the skating culture.
Today, Crystal lives in Juneau, Alaska, as a co-owner and co-designer of Trickster Company with her brother Rico Worl. Trickster Company promotes innovative Indigenous design focused on the Northwest Coast art and exploring themes and issues in Native culture.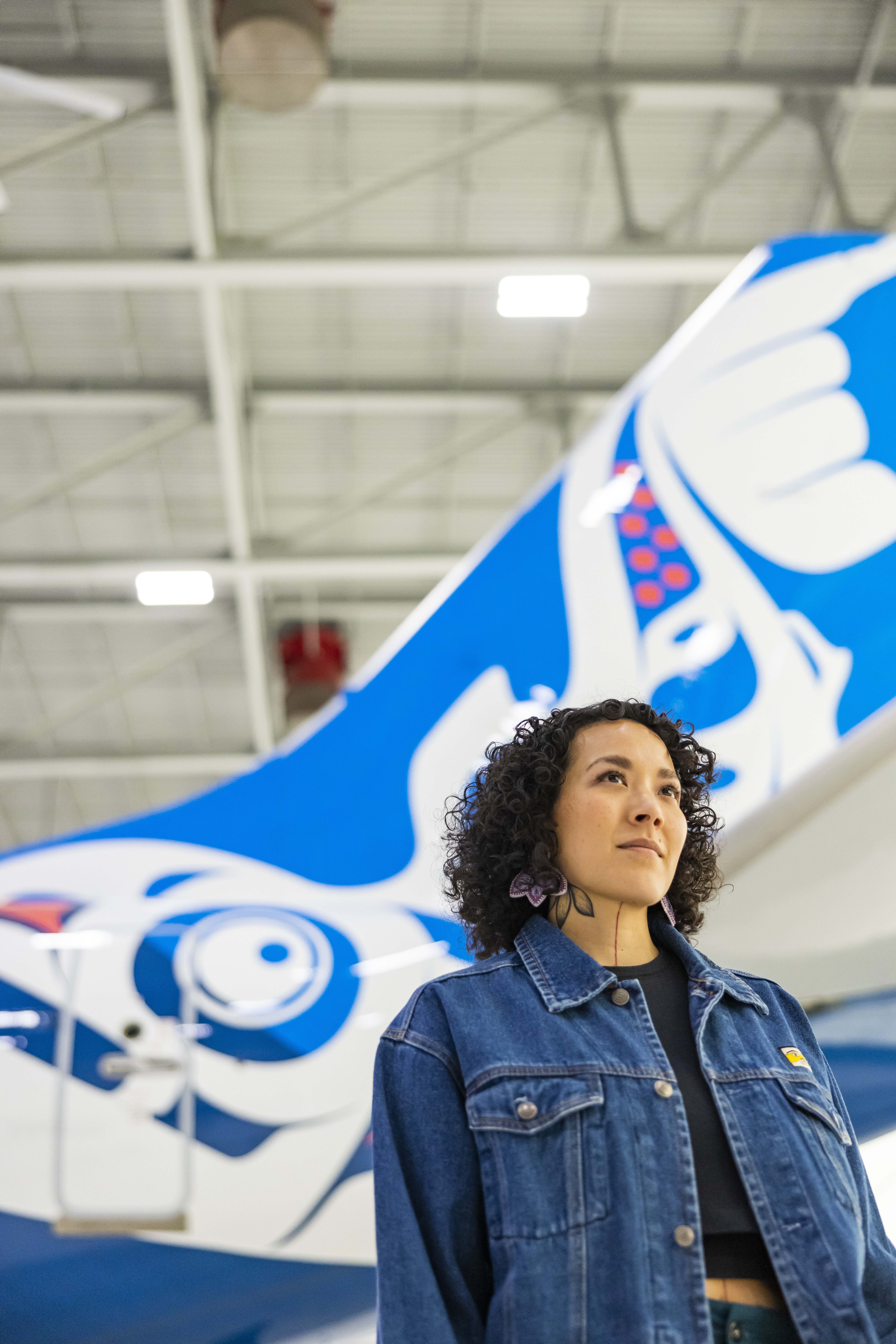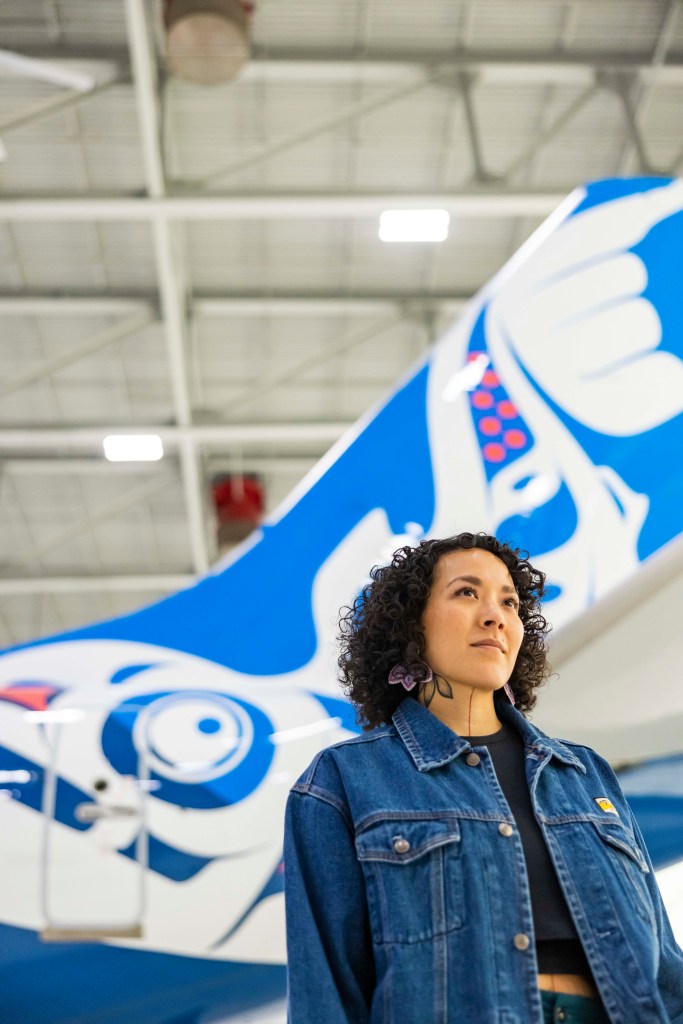 ---
This story was first published by Alaska Airlines and is republished here with their permission. You can read the original here.